10 Virtual Date Ideas: Activities for Long-Distance Couples
20 Sep 2020
6 mins to read
Advertiser disclosure | We receive referral fees
Advertiser disclosure
The operator of this site receives advertising compensation in various forms from companies with referral links on the site. Such compensation influences the location and order in which the products or services are presented. At the same time, please note that the compensation received is not the only factor that impacts the content, topics or posts on the site.
Our opinions or findings are based on our review and analysis of the referred products and sites. In addition, the site may also contain various advertising materials, including but not limited to banners, video-materials, pop-ups, push notifications etc. The texts here are written in an artistic manner and may contain wording exaggerations.
Close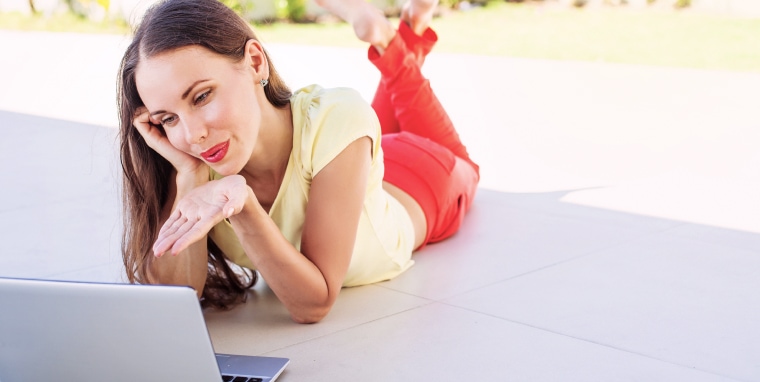 Not being able to be with your partner physically can be hard. It is difficult to feel intimacy and connection without being really close and connected. Many people are limited to phone calls, emails, chats on Jol***omance.com, which can become a bit tedious over time. While a date over video is not exactly the same as a date in person, it can still be nice, especially if you come prepared with a good idea. It is important to keep things interesting. Whether you're in a long-distance relationship, a relationship that is temporarily long distance due to the pandemic or just starting to chat with a girl, we have a list of things you can do with your girlfriend.
Cook dinner "together"
Plan out your date to make the same meal. Decide on a recipe you'd both like to try, prop up your phone or computer in your kitchen, and cook it together. If you're competitive, this can, of course, also serve as a type of challenge. This is a good way to interact and talk while cooking. Once your meals are made, make a romantic set up and eat your delicious food together.
Watch a movie or TV show
This is definitely one of the best ways to relax with your girlfriend without even being together. Agree on a movie you'll both enjoy. There are various ways of watching a movie together. You can either do this with or without the help of Netflix's "Netflix Party" plug-in. Pick a movie or TV show you want to watch and press play simultaneously. Most couples like to have contact while watching a movie together and do so over the phone or instant messenger, or a video chat.
Watch the sunrise or sunset
Watching a sunrise or sunset is definitely one of the most romantic date options available to couples who met on the site and currently have no opportunity to meet in real life.
Depending on your timezones and work schedules find out which is more appropriate for both of you. Set calendar alerts and enjoy the beauty of nature together. If you're in the same time zone, you can watch the sun go up or down at the same time from different places. If you're in different time zones, you can show the sunset with the help of your smartphone, even if it's a morning where your girl is. Just bring your smartphone along on a hike to your favorite viewpoint and video chat with your girlfriend. It's a simple way to show the world from your eyes.
Make a playlist
If you're chatting a lot on the site with your girlfriend, why not listen to music together as you chat? There are tons of free online radio stations online. We all have those songs that remind us of some times. So why not create such a playlist together? Or share some songs that remind you of your childhood or some period in your life with your girlfriend to get to know some important moments in each other's lives.
Sing karaoke together
For many people, karaoke can be a nerve-racking experience. But if you are OK with that, it can be a lot of fun to sing with your partner. ​You never know, you might find one of you has a hidden talent! You can sing in real time together and record your song.
Learn together
For some people, learning something new can be a daunting task, even if that is what they have wanted to try for many years. Having a partner in crime can help with motivation while making the learning process more enjoyable. Take the time to find the right thing you'll both enjoy otherwise motivation levels can flatline. Does your partner speak a second language? If you live in the different parts of the world and met on Jol***omance.com, take the time to try to learn your girlfriend's language. It will show just how much you care about her and her culture.
Head to the bar together
Include your partner in everyday activities via video chat on the site or Skype. When you're out and about and having a coffee or cocktail, show her around or give her a 'cheers' with your drink via your smartphone screen. It's a simple reminder to your partner that she is on your mind even when you're out.
Have a double date
Invite another long-distance couple to a double date video chat. Have some pizza together. How were their days? How are they coping with the separation? Also, you may ask them about activities for virtual dates.
Draw a picture together
We aren't all artists but it's another great idea, no matter how bad you are at this. It doesn't matter if you're not an artist of any kind, all you need is a pencil and a sense of humor. To bring more fun to this activity, draw or paint each other. Or you can do it a serious way.
Or choose something you would both like to paint and drink wine and chat. At the end of your painting session, if you're clearly the better painter, make sure to console your partner with the knowledge that this wasn't a contest, luckily for them.
Truth or dare
​If your virtual dates lack frankness then the truth or dare game is what you need to try! Make sure you both respect each other's boundaries otherwise a game can quickly turn into an awkward situation of silence. You can Google a list of truth or dare questions that range from cute and silly all the way through to sexy.
These activities are just the tip of the iceberg. Even if you recently met on the site and are not ready to meet in person yet, there is a bunch of activities to spend a great time together. These creative virtual date ideas will help you feel closer to your significant other and enable you to have a fun time in the process.
Foreverloveonline Team