10 Tips to Have More Meaningful Chats
18 Sep 2020
5 mins to read
Advertiser disclosure | We receive referral fees
Advertiser disclosure
The operator of this site receives advertising compensation in various forms from companies with referral links on the site. Such compensation influences the location and order in which the products or services are presented. At the same time, please note that the compensation received is not the only factor that impacts the content, topics or posts on the site.
Our opinions or findings are based on our review and analysis of the referred products and sites. In addition, the site may also contain various advertising materials, including but not limited to banners, video-materials, pop-ups, push notifications etc. The texts here are written in an artistic manner and may contain wording exaggerations.
Close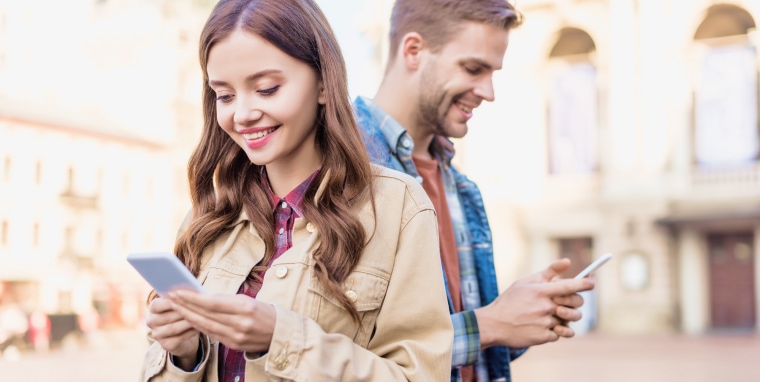 You filled out your profile on East***Honeys.com. You picked up the perfect profile photos. You have been searching for potential matches and even found some ladies who caught your eye. But that was just the beginning, what should you say to them?
Composing a message on dating sites is one of the hardest parts of the whole thing. Moreover, not everyone is comfortable with text conversations. It's important to bear in mind that the messages you send a match are the first impression they're going to get of you. Should you pay a girl you liked a compliment or is that too forward? Should you keep it simple? You want to stand out, but you don't want it to seem like you're trying too hard. Hopefully, here are some tips to have more meaningful chats and be able to write something that has a high chance of getting a response. Take some time to compose your message and follow these tips to avoid common mistakes.
1
Start with "hi," but expand it.
When you meet somebody in real life for the first time, you probably do two things: say hello and tell them your name. So why not employ the same rule on the online site? It is polite, easy, and effective but instead of just saying "hi," or "hello" as everybody else does, make things interesting. You may say something like "Hello, I didn't see you there. By the way, I'm John." Or simply replace plain "hi" with "hola" or "bonjour".
2
Don't answer in one word.
There's no need to give monosyllabic answers like "yes", "no" and so on. You can respond with proper and well-formed sentences and thus continue the conversation with the girl you like. When you respond to a person's text with one word, they will only end up losing interest in chatting with you and think that you're boring.
On the contrary to the previous advice, there is no need to write a novel. The first email should be about 3-5 sentences long. A message that's too long is unlikely to be read at all. There's no need to give a girl you started chatting with 5 minutes ago on East***Honeys.com your entire life story. Keep it short and focus more on asking about the lady than telling her all about yourself. If she is interested she will ask you questions.
In further correspondence remember to answer any questions you match asked. But don't reveal too much otherwise you may find you're lost of things to talk about when you meet.
4
Comment on her profile.
Commenting on the girl's online profile shows that you actually read it and that you're interested in her. When you meet a new person online, it can be tempting to compliment her appearance. But most people would rather receive a compliment about something they wrote in their profile. If she likes cooking, sports, loves pets, enjoys reading or movies, write it in your message. Bonus points if you add some details about yourself. It keeps the conversation going and gives her something to respond to.
One of the best ways to start a conversation is by asking a question. Again, it gives people something to respond to. Remember the previous piece of advice - it is better if this can relate to something a woman wrote in her profile. For example, you may ask, "What is your favorite dish to cook?", "Have you read any gooв books lately?", "Where was your last trip?"
Be honest and say what you feel. That doesn't mean you have to be too aggressive. Instead, it means that if you're interested in some girl, it's OK to be clear about it. Say "I'd like to get to know you better", "I'm interested in learning more about you", or "Your profile interested me." After all, isn't that what you signed up for when you joined East***Honeys.com?
7
Be enthusiastic when texting.
If you're dull, boring and lifeless when texting a girl on the site, she will think you're boring. You need to show some sort of enthusiasm while you text a woman you like. You can show your enthusiasm by sending emotions along with the text matter. If you are busy and are unable to respond at that very moment, let her know. You can always contact her once you're free to chat.
8
Show interest in her life.
Another effective way to show that you're interested is by showing interest in the opposite person's life. When chatting with your girlfriend, make sure to ask her how her day is going, or how she is feeling if she has been ill and so on. When you show interest and care towards her life, she will automatically be more inclined towards texting you regularly. If you're only going to talk about yourself, the lady will end up losing interest in chatting with you.
9
Pictures, gifs and memes.
People love receiving funny or informative pictures, memes and gifs. You can send out some fun pictures to the woman you are chatting with on the site to bring a smile on her face. However, don't over-flood her inbox with hundreds of unnecessary forwards. Select only those picture messages and memes that you think will be interesting to her.
Women are more likely to respond to a funny message, and we know that women value humor when looking for a man. Funny online conversation starters get lots of responses since most people enjoy laughing. Also, you can send a gif or picture that will attract her attention and a humorous message to follow up. Start with a joke or tell her a funny story.
Conclusion
These simple and easy tips can help to become a more enthusiastic and interesting texter. The world is changing and with online relationships, more and more people are depending on text messages as a way of communication. You need to improve with time and improve your communication style. Once you get the hang of texting and having a proper conversation via text, you will find that it gets easier and less stressful for you.
Foreverloveonline Team