6 Signs Your Relationship is Unhappy
14 Sep 2020
5 mins to read
Advertiser disclosure | We receive referral fees
Advertiser disclosure
The operator of this site receives advertising compensation in various forms from companies with referral links on the site. Such compensation influences the location and order in which the products or services are presented. At the same time, please note that the compensation received is not the only factor that impacts the content, topics or posts on the site.
Our opinions or findings are based on our review and analysis of the referred products and sites. In addition, the site may also contain various advertising materials, including but not limited to banners, video-materials, pop-ups, push notifications etc. The texts here are written in an artistic manner and may contain wording exaggerations.
Close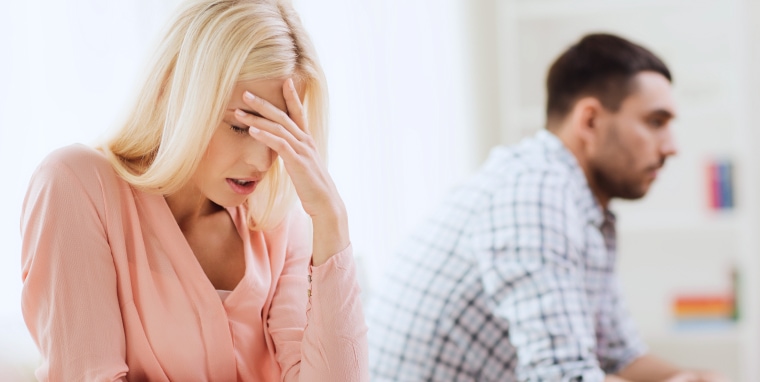 When the couple meets on the platform like Lov***rt.com and finally says "I do", the intention is forever. But over time, the woman you promised to stay with forever has changed a lot, or external factors have created so much tension, and the relationships that were once happy and satisfying may feel irreparable.
Good relationships can improve your life in a way that you never thought was possible while bad relationships can leave you heartbroken and depressed. Relations that have signs of physical or emotional abuse, disharmony, repeated infidelity, drug abuse, and so on, are more common than we actually think. Let's define the signs that may indicate that your union cannot make you happy, in order to deal with them.
1
Low self-esteem, chronic anxiety, or depression.
Remember your emotional state at the times you met on the site and compare it to what you have now. People in unhappy relations are more prone to low self-esteem, chronic anxiety, as well as depression, and as a result, get sick more often. Your relations may not necessarily be the cause of these conditions, but the presence of these negative emotional states can create dissatisfaction.
2
You aren't having sex anymore.
Physical intimacy is what distinguishes romantic relationships from all other kinds. If you are no longer being intimate, or if you feel rejected sexually, deeper problems are likely to hide below the surface. It's not a secret to anyone that the couple's sexual relationship always mirrors the quality of the emotional connection and relationship satisfaction.
It's a warning sign if you don't have regular sex anymore (at least, 10 times a year). A lack of visible physical affection like kisses or hugs also indicates serious problems. Do you kiss your partner when you meet? Do you fall asleep in each other's arms? If you used to but not anymore, think about what caused this? All the moments that used to give us the feeling of butterflies in the stomach (for instance, when you had a new message from her on the platform you met) have become not so often, and now, you might even see the problems in your relations.
3
Unwillingness to spend time together.
After getting home from work, do you and your girlfriend spend time together or go your separate ways? And when you're with your mutual friends, do you tend to drift apart and spend time separately? If you'd rather be alone than with your girlfriend, there probably isn't much point in being together. Spending some time apart is one thing, but the problem appears when you'd prefer to be apart.
When your relations start to become toxic, you may find yourself avoiding home, staying longer at work, or finding excuses to leave the house for a while. This way, you're subconsciously attempting to separate yourself from the negative energy as much as possible.
4
You're on the verge of an affair.
If you're unsatisfied with your family life, you may want to have an emotional affair, making another person the priority in your life. And thanks to today's technology, it's easier than ever to seek an affair. Online networks have allowed people who would never dare to have an affair to flirt on the Internet. However, if your relationship is already not perfect, looking for someone else, even if that's only online, will only make things worse.
5
You have become the scapegoat for your partner's problems.
This is a common truth that arguments are common for any couple. But if your partner has a way of turning everything back around on you, it may be time to get out. You may not even realize that your lover has made you her scapegoat, projecting any negative thing that happens onto you. Receiving constant blame for everything that goes wrong in her life, no matter what level of involvement you actually had, is actually a red flag.
6
Your self-esteem has diminished.
There's no harm in constructive criticism, but that doesn't mean your partner should constantly putting you down. If this negging gradually makes your self-worth decrease, youк relationship is toxic. An alliance should be built on being your partner's biggest supporter. There will be fights and harsh words spoken, but they should always result in unity. Healthy conflict should always have a focus on being on the same team and working to strengthen and heal your relationship.
As we now see, relationship problems don't appear right away or out of thin air. Usually, they grow like a snowball, gradually. Luckily, that means it is possible to notice them until it's too late.
You must agree, you had no problems with that girl you met on Lov***rt.com, but over time, any relationships change. So it is important to notice the first signs that may lead to an unhappy relationship and try to solve the problems right away.
Foreverloveonline Team