5 Ways to Move on After a Divorce
06 Sep 2020
5 mins to read
Advertiser disclosure | We receive referral fees
Advertiser disclosure
The operator of this site receives advertising compensation in various forms from companies with referral links on the site. Such compensation influences the location and order in which the products or services are presented. At the same time, please note that the compensation received is not the only factor that impacts the content, topics or posts on the site.
Our opinions or findings are based on our review and analysis of the referred products and sites. In addition, the site may also contain various advertising materials, including but not limited to banners, video-materials, pop-ups, push notifications etc. The texts here are written in an artistic manner and may contain wording exaggerations.
Close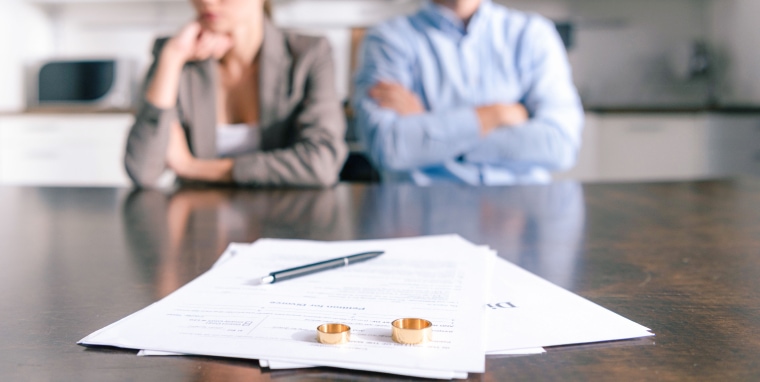 A lot of newly divorced people might feel like there is no chance for them to ever have a bright future filled with joy after the split. It is actually, the opposite. What you need to understand is that you are not the only person in the world who goes through a situation like that. In fact, statistics point out that in the United States of America alone, "a very large minority of all unions don't last a lifetime." Therefore, you should not feel like you are the only couple that failed to make it work. There are plenty of people who are just like you and, too, have wedded someone who was not quite right for them.
1
Understand That It Is Not the End of the World
It would be unfair to sugarcoat the matter — divorces are, indeed, very hard to go through and are even harder to get over. However, it does not mean that you have to be mourning your past relationship forever.
It is okay to make mistakes, as long as you learn from them. After all, this is exactly how wisdom is accumulated — every single wrong step that we take takes us closer to realizing what the right one is. Therefore, you should think of the divorce as of a new chapter in the book of your life — you have a chance to start it all over. And no matter how terrifying it may look at the first sight, it is often much more exciting than it seems — you (a better, more mature version of you) gets a second chance in building the life you deserve. So, grasp the opportunity by its tail!
2
Reflect Back on the Relationship with Your Ex-Spouse
However, in order to excel at becoming a wiser version of yourself that knows better and is ready to act, you need to acknowledge that there is a certain trauma and work through it. No matter who was the one to call it quits, both people involved in a union are likely to experience some sort of psychological stalling as they get divorced. Especially if the two of you have been married for a long time, and got used to each other to such extent that it will be awkward to exist without your other half.
One way or another, in order to get rid of this burden of the past, you need to reflect thoroughly on your past relationship. This has two sides to it: understanding the reasons behind why it ended, and recollecting all the positive memories it gifted to you.
First of all, it is essential to let yourself be sad for a bit, power through the loss of a person that was once important to you, and acknowledge the fact that it happened. The worst thing you can do is to avoid thinking about divorce and act as if nothing happened. If you do so, chances are by bottling up your emotions you will only make it worse.
However, you should not just pity yourself, and spiral into depression. It is easy to blame your ex for all the bad things that happened in your relationship and eventually led to the divorce. Yet, it is both of you that have to be held accountable. Look back and remember all the situations where you were wrong, and note down how you should act in the future to not let them happen again.
Also, in order not to sink in all this negativity, also think of all the good things that the two of you shared and genuinely thank your ex-spouse for all the positive emotions that you created together.
3
Reconnect with Your Friends and Relatives
Do not alienate yourself from the people that are there by your side, willing to help you. No one will benefit from you playing a tough hero, hiding your emotions. Let yourself be vulnerable and let the people who genuinely care about you help you. Reminding yourself that you have someone apart from your ex-spouse is empowering and therapeutic! You can also try to make new friends on East***Honeys.com just to feel more confident in your attractiveness as a person again.
4
Allow Some Time for Yourself, Do Not Rush
Pamper yourself, better yourself as an individual, reinvent yourself! After the time spent in a union with another person, it may be challenging to go back to being single and perceiving yourself as a complete man of your own, and not a part of somebody else. Therefore, it is essential to dedicate some time to doing the things that you like.
Apart from that, it might also be good to let yourself be single for a bit, without immediately rushing into a new relationship. While seeing somebody new can be validating and overall pleasant, it is often not good in the long run. You may just start chatting online or try to make friends on East***Honeys.com. However, before starting a serious relationship, you need to heal first and get your head clear.
After you have allowed some time, though, you can get back right into the world of mingling with other people. In the digital era, looking for someone special is easier than ever before, so you should not even worry about not having enough options! No matter how old you are when you get out of your previous relationship and file a divorce, you can be totally sure there are singles of your age out there on the internet. A good place to look would be East***Honeys.com. It is aimed at allowing singles from all around the globe to match with each other based on their shared interests and values in life. So you can be sure compatibility will be present on this site.
5
Think About Everyone Affected by the Divorce
At last but not at least, think about all those people also affected by the split. This point is particularly relevant if you and your ex-spouse had kids. If this is the case, you need to make sure that you remain civil with your ex and make everything possible to provide your shared children love. Children are easily affected by situations like that and need to be comforted and focused on! Bur if you are looking for a partner on East***Honeys.com it's better not to hide that you have kids and specify it in your profile. You won't get far by lying.
Similarly, if you do not mind meeting a person who has children, choose this option while searching on the site. As a result, it may be a great experience for you and your children!
Foreverloveonline Team